Chadar trek
OVERVIEW
Region– nyrakpulu / Ladhak
Duration– 6days
Grade– Difficult
Max. Altitude– 11,000
Best Season– Mid January-Mid February
Minimum Temperature– (-30 degree)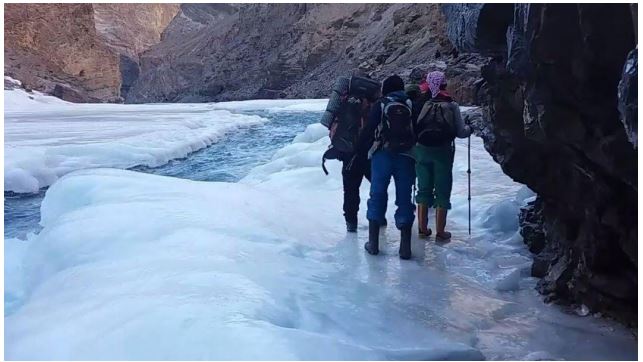 The Start of the Journey
The journey starts at the mountain town of Leh. The Frozen River Trek begins from the small village of Chilling from where the Zanskar River begins to freeze. Geographic tours provide accommodation-(camping) Leh guest house according to itinerary. One can catch a glimpse of the snow capped mountains from the guest house as well. The trek is over the Zanskar River which lies frozen during the winter. The most preferred time to cross the ice would be in Mid January to Mid-February. During that time, the ice tends to be at its most stable state. Our transport system will give you full freedom of capturing eye grabbing pictures and memories also having a good support in terms of security, Guide, Support staffs and Logistics.
Across the Ice
The ice can be as dangerous at times as it can be safe during others. One needs to figure out the safe paths over the precarious sheet and must always be aware of the ice conditions below the feet. The trekkers can choose to camp in the caves along the banks like the locals or set up tents where the ice is the most stable. The setting is close to twenty degrees below freezing point and decreases further after sundown as well. Warm and layered clothes are recommended as is being on the move and we provide you trek equipment for safer trekking. These help invariably in keeping the body warm and prevent cold sores and also keep the blood from freezing.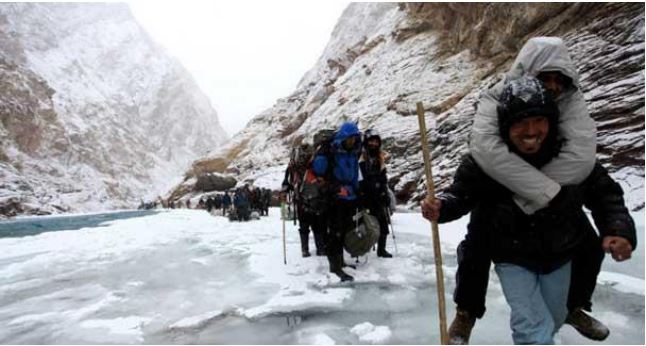 We make you feel Safe
It is always recommended to be aware of the ice conditions at all times. There are several factors to consider ensuring a safe journey. Most of these factors involve the conditions of the ice and the footing choices of the trekker. The precautions include:
Our trek leader make you aware of the ice sheet conditions.
There may be cracks in the ice but no to worry our guide will help you avoid these cracks
Finding places with a coating of snow is the best place to walk normally.
Cracks may suddenly appear under one's feet but our support staffs will always there to help you
The ice is not a trekker's friend and one should always respect it and be
aware of the conditions at all times especially while
choosing the camping spot.
Brief Itinerary
For more detail brief description about trip and the schedule of the trip
you can also visit to www.geographicstour.in